Image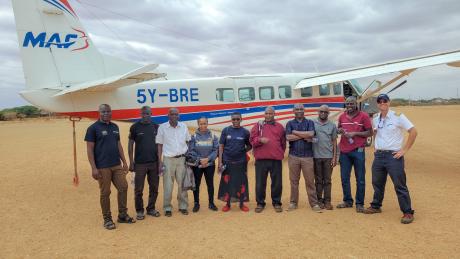 A group of ophthalmologists from the Fred Hollows Foundation pictured alongside Pilot Daniel at Mandera Airstrip.Photo credit: Fred Hollows Foundation
A MAF aircraft touched down at a remote airstrip in Mandera, bringing eye specialists from the Fred Hollows Foundation to offer free eye check-ups to more than 2,000 individuals.
Pilot Daniel Loewen-Rudgers ensured the safe and swift arrival of the eye specialists, cutting travel time to just three hours compared to the gruelling 15-hour journey by road.
Image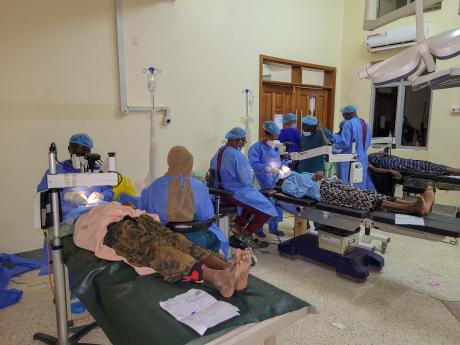 Ophthalmologists conducting sight-restoring eye surgeries. - Photo credit: Fred Hollows Foundation
Catherine Jakaiti, the Program Manager at the Fred Hollows Foundation was on board the flight. She expressed her gratitude to MAF for the flight in getting the medical team to the surgical eye camp noting, "Without MAF, this would not have been possible."
During the five-day eye surgical camp, the team conducted screenings, diagnoses, treatments, counselling, and an impressive total of 295 sight-restoring surgeries. Among these surgeries, 282 were cataract procedures, while 12 involved excisions. Additionally, 21 children diagnosed with congenital and traumatic cataracts were referred to tertiary facilities for specialized surgery.
The profound impact of the eye camp was evident in the lives of countless residents, emphasizing the urgent need for improved eye healthcare in the region. One touching story is that of 78-year-old Habiba* (pseudonym), who emerged as a symbol of newfound happiness after her sight was restored during the camp. After years of darkness, her vision was finally brought back to life.
In gratitude, she expressed, "I sincerely appreciate your care for my eyes. I cannot put into words how much I value your assistance and prompt action that has given me a new life." The prospect of once again seeing the smiles of her grandchildren, whose voices she had come to rely on, filled her heart with immeasurable joy.
Her words resonated with heartfelt gratitude towards all those who contributed to the camp's success, a collective effort that had rekindled the quality of her life. In her sentiment, she shared, "I feel rejuvenated as if I am young once again."
Image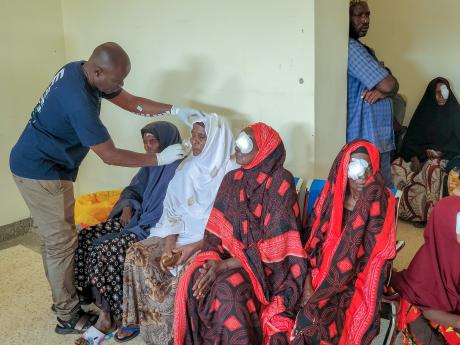 An ophthalmologist providing post-surgical care to an elderly woman. - Photo credit: Fred Hollows Foundation
Hon. Mohammed A., Omar, the County Executive Committee member for Health (CECM), was instrumental in providing logistical support and non-pharmaceutical supplies that contributed to the success of the camp. He expressed his gratitude to all who were involved noting that, "I look forward to the day when the backlog of visually impaired individuals in the county will be significantly reduced."
H.E Mohammed Adan Khalif, the County Governor, extended his appreciation for the compassionate work of the team, emphasizing that, "It's not just about; the numbers, it's about the meaningful deeds and acts of compassion that bring impact to our county.
Image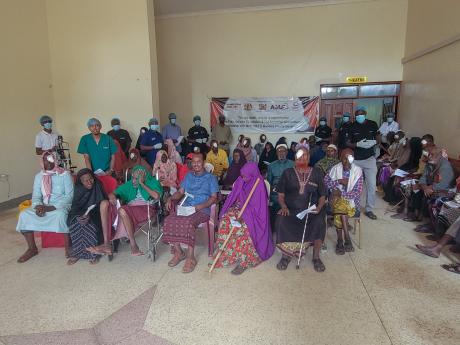 Patients are seated in the post-surgery waiting area. - Photo credit: Fred Hollows Foundation
The successful surgical eye camp, bringing hope and healing to many, was made possible through the remarkable collaboration between MAF, the Fred Hollows Foundation, Australian Aid, and the County Government of Mandera.
Story by: Jacqueline Mwende