Important Flight Information – Before You Fly
Weight Restrictions:
All aircrafts are weight restricted and we have strict weight restrictions set for all our flights; please abide by our baggage policies.
All items and people will be weighed before departure, to ensure we do not exceed the maximum weight allowance for our aircrafts.
Safety and Weather:
Safety is our paramount concern and all flights are conducted weather permitting.
If your flight is cancelled due to weather, pilot unavailability, or maintenance issues, you will have the choice of accepting a full refund or rescheduling on the next available flight.
Incidental expenses incurred due to weather delays or cancellations are the full responsibility of the passenger. These include but are not limited to re-accommodation, meals, overnight accommodation expenses and passenger-arranged alternate transportation.
Additional Information and Booking Policy:
For further travel information and the booking policy of MAF Kenya, please contact us.
Dangerous Goods
While numerous items commonly used in homes or workplaces may appear harmless, their transportation by air can pose significant risks. Fluctuations in temperature and pressure during flight may lead to leaks, the generation of toxic fumes, or even the initiation of fire.
For this reason, it is essential that any cargo containing dangerous goods be declared properly and clearly identified as such. By following these necessary precautions, we can ensure the safety of all passengers and crew members during air transportation.
Image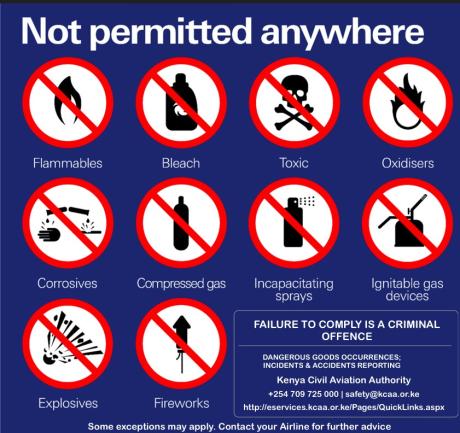 Dangerous goods
MAF Kenya is approved to transport a restricted range of Dangerous Goods on our aircraft, adhering to the IATA Dangerous Goods Regulations. Among the typical items we are authorized to carry are Diesel, Petrol, Bleach, Aerosols, Batteries, Ethanol, Kerosene, Fire Extinguishers, Combustion Engines, Propane, Isopropanol, and Lighters.

If you wish to transport  Dangerous Goods please contact bookings at least two days in advance to allow us to prepare all the required paperwork and make necessary arrangements for the safe carriage of the items.
If you are unsure if something you wish to transport is classified as Dangerous Goods, please contact us.