Image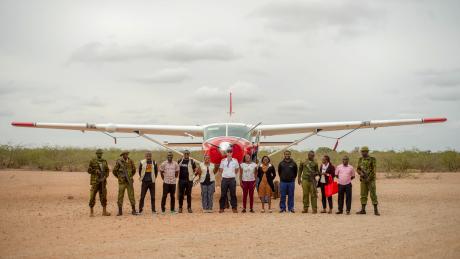 From Left: Anthony Muthuri, Adan Ishaq, Victor Omito, Brian Mtiva, Dr Peter, Sharon Muchoki, Capt Daniel, Grace Ochieng', Pst Emmy, Dr Philemon, Corp Okinda , Isabella MOHI, Okumu and Pst Gabriel. - Photo credit: Acadius Akungwi - CURE International
Meet Henry Baraka, a young boy who had faced a challenging journey due to a congenital condition that left him with only one functional leg. For as long as he could remember, Henry had struggled to walk and perform even the most basic tasks on his own.
Despite his physical limitations, Henry was known for his strong spirit and determination to lead a fulfilling life. He had always dreamt of the day when he could walk without pain or assistance. That dream was about to become a reality through the partnership of three organizations, including MAF, coming together in the coastal Kenyan town of Kilifi, near Henry's home.
Henry's journey towards receiving a prosthetic limb began with the unwavering support of his family, led by his elder sister, Kadzo. His parents had never let his condition hold him back. They sought out the expertise of Missions of Hope International, a school with a mission to help the less fortunate with education. They also enlisted the help of CURE Children's Hospital of Kenya, a renowned paediatric orthopaedic hospital in Kenya that provides prosthetic services. These two organizations partnered with Mission Aviation Fellowship - Kenya, which flew these two teams approximately 800 kilometres from Nairobi to provide the specialized corrective treatment.
Image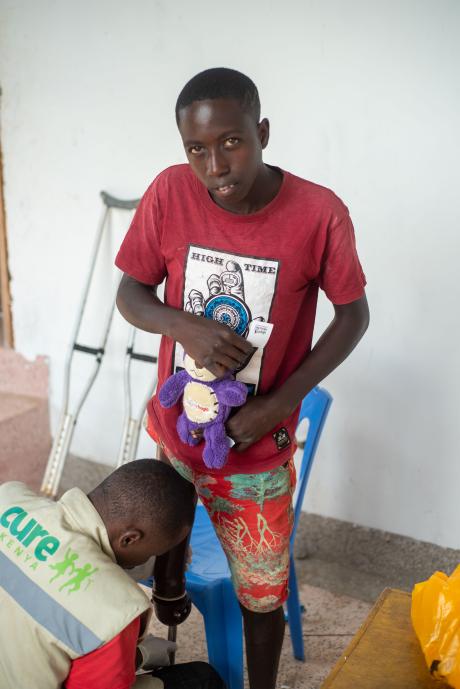 Henry receives a prosthetic limb. - Photo Credit: Acadius Akungwi
MAF Pilot Daniel Loewen-Rudgers made sure the medical team from the AIC CURE Children's Hospital reached the location within two and half hours, beating a gruelling 10 hours by road. This means that the medical team saves a lot of travel time and reach the ground energetic and ready to start seeing the patients.
Having assessed Henry during an earlier safari, the day for the prosthetic fitting arrived and Henry was a mix of excitement and nerves. He had been carefully measured and assessed to ensure that the prosthetic limb would be a perfect fit for his unique needs and body structure. As Mr Victor Omito adjusted the prosthetic limb and secured it in place, Henry couldn't contain his anticipation. He took his first steps with his new limb, feeling the support and freedom he had longed for. Tears of joy welled up in his eyes as he walked around the room, with his sister watching in awe. "This is incredible!" Henry exclaimed.
Pastor Peter Waweru, who travelled with the team on the MAF flight, shares, "As a Pastor, I have witnessed countless miracles, but one of the most profound is the transformation that happened when we came together to give Henry a prosthetic leg. It's a testament to the boundless love and compassion we can show one another, and a reminder that with faith and community, we can help each other walk towards a brighter future."
Over the coming weeks and months, Henry was advised to undergo intensive physical therapy to adapt to his prosthetic limb and regain his strength. He was determined to make the most of this life-changing opportunity, and his progress would be nothing short of remarkable as the medical teams, with the help of MOHI and MAF, would be reviewing him as frequently as they could.
Image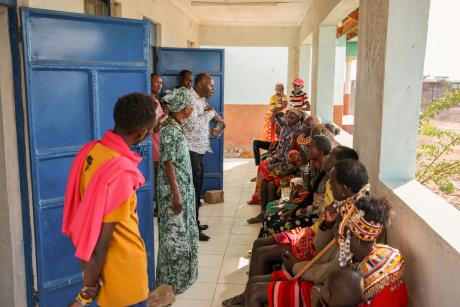 The pastor conducting a prayer session with patients at the Bura mobile clinic. -Photo credit: Acadius Akungwi
The medical team screened and assessed 57 children during their trip to remote locations in Bura and Kilifi counties. Fourteen of the children were booked in and scheduled for surgeries at the CURE Children's Hospital in Kijabe giving them hope of a bright future.
Story by: Jacqueline Mwende
Photos by: Acadius Akungwi - CURE International