Image
Missionaries from Community Church Virginia posing at Migori Airstrip - Photo credit: HopeCo
Sixteen missionaries had an incredible opportunity to engage with and inspire children in Tanzania after flying with MAF.
MAF Pilot Daniel Gill transported the team of sixteen missionaries hailing from the Community Church Virginia from Kenya's capital to Migori Airport, the connection point for their onward journey to Tanzania by road. Travelling to Migori by air takes approximately 1.2 hours while an arduous overland journey would exceed eight hours.
Regina Chacha, the Co-founder of HopeCo, personally accompanied the group on this journey. She conveyed her profound gratitude for MAF's role in easing the logistical challenges for their guests.
Regina shared, "MAF has truly been an invaluable support to us in terms of transportation, particularly for guests who travel long distances and are unaccustomed to extended road trips. The flights significantly shorten their journey, sparing them from an exhausting 8-hour ordeal."
Image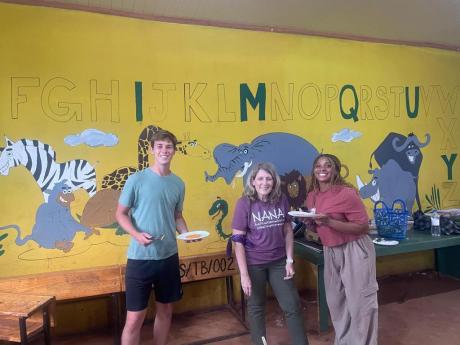 Happy missionaries paint a Mural for the children at City of Hope. - Photo credit: HopeCo
HopeCo, previously recognized as Teamwork Ministries International, stands as a commendable non-profit organization whose diverse projects encompass crucial services such as a medical clinic, educational institutions, and nurturing homes for orphaned children.
Throughout their mission, this dedicated team participated in a range of meaningful activities among them, decorating classroom walls with vibrant murals, constructing essential desks and wardrobes, and nurturing young souls through a spiritually enriching Bible camp at the City of Hope.
Image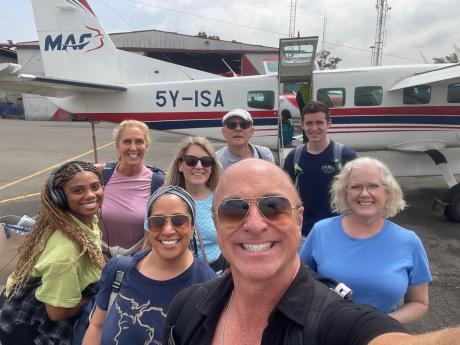 Brian Kirby, a board member at HopeCo with a team of missionaries at Migori Airstrip. - Photo credit: HopeCo
The impact of these missionaries' actions resonates deeply, serving as a testament to the transformative power of collaboration, compassion, and a shared vision for a brighter future.
Story by: Jacqueline Mwende