Image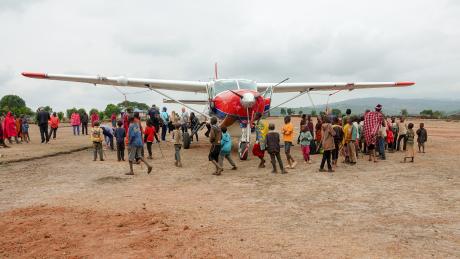 Kids excited about the MAF plane landing in Enairebuk. Photo credit: Jacqueline Mwende
MAF Kenya provides transport for partners and donors to Enairebuk to bring help to the Maasai community.
Doctors from abroad have used the MAF flight to reach the community, and offer medical training to the medical team and tend to the sick.
RedTribe is running a clinic that serves members of its community, bringing medical care closer to home. The clinic now saves the locals four hours of driving to the nearest medical centre in bad terrain.
Pelua Siloma, the Country Director for RedTribe shares his gratitude to MAF for the immense support throughout the years. "I am grateful for the long-running partnership we have with MAF Kenya which allows our visitors a short travel time using their aircraft to access Enairebuk," said Pelua. "A journey that would normally take eight hours on the road, takes half an hour by flight."
Image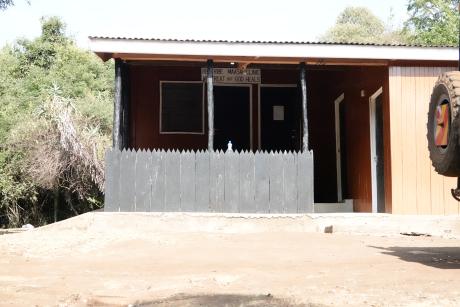 RedTribe clinic in Enairebuk. Photo credit: RedTribe
Different illnesses are treated at the clinic, among them are respiratory illnesses such as asthma and pneumonia; diarrhoea, ulcers, gastritis, gastroenteritis, toothaches, and small injuries. On average, the clinic receives 15 to 20 patients in a day and more patients on market days. Many pregnant women have lost lives while others have lost children during childbirth which is done by midwives in the comfort of their homes. When complications arise, transporting these patients in need of emergency care on a four-hour drive from Enairebuk to Narok town where the main hospital is located reduces their chances of survival.
John, the clinical Officer at the RedTribe clinic shares in-depth about his day-to-day work.
"My work involves examining the patient, diagnosing, and writing a treatment plan for them which they present to the nurse for treatment," John said.
"The most common ailments that we treat at our clinic are respiratory diseases such as asthma and pneumonia which are majorly caused by constant inhaling of smoke fumes in their houses while cooking and moreover because their houses lack any ventilation." He added that most times if one child is infected with a cold, the likelihood of others in the same house contracting the disease is high due to overcrowding.
Image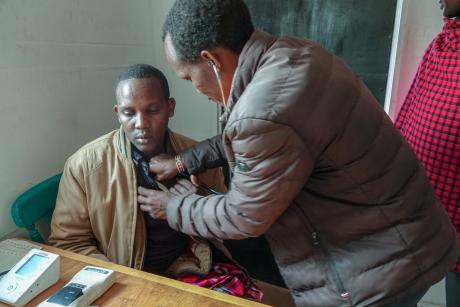 The clinical officer examines James before offering treatment . Photo credit: Jacqueline Mwende
Florence Simpona, the nurse at the RedTribe Clinic, also shared insights into a typical day's activities at the clinic.
"At the clinic, I attend to a variety of medical conditions, including colds, stomach upsets, tooth problems, injuries, and also respond to medical emergencies," Florence explained.
For emergencies that exceed the capabilities of our clinic, we refer patients to the main hospital in Narok town, where they can receive more specialized care.
"We are currently in the process of expanding our clinic to include a maternity ward, which will enable us to save more lives of both mothers and their babies in a more efficient manner," Florence added.
"With the addition of a maternity unit, we will be better equipped to handle some of these emergency cases and provide continuous monitoring for pregnant women to detect any abnormalities early on, ultimately saving many lives," Florence emphasized.
Patient receives treatment
James was brought in for a medical evaluation due to his complaints of chest pains, chest congestion, and breathing difficulties. John and Florence promptly attended to him.
During the examination, John, the clinical officer, observed that James had likely been exposed to cold weather due to the ongoing rainy season in the area. James expressed his gratitude for the proximity of the clinic to his home.
"I reside just half an hour away from this clinic. Whenever I fall ill, I find solace in seeking treatment here. Undoubtedly, having this clinic in our community has greatly benefited us," James remarked appreciatively.
Image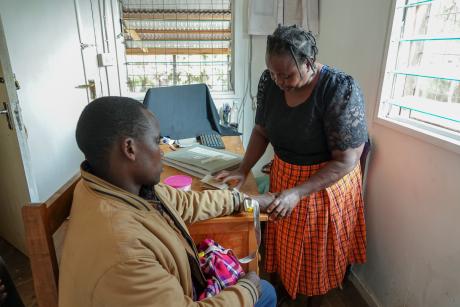 Nurse Florence administers treatment on James. Photo credit: Jacqueline Mwende
Story and photos by: Jacqueline Mwende