Image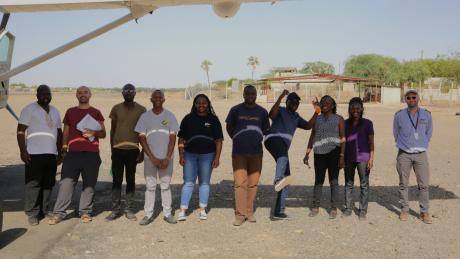 CURE International, MOHI and MAF Kenya team in Lodwar, Northern Kenya. Photo Credit: Acadius Akungwi
A girl, who suffered horrific burns injuries when she was just one and a half, has been given fresh hope after treatment from a team of surgeons flown by MAF to remote towns in northern Kenya
The painful injuries suffered by young Neyeso were compounded by her mother's struggle to raise adequate funds for treatment. Then in a heartbreaking blow, after the family eventually raised funds for treatment, the money was stolen by robbers before they reached the hospital.
Breakthrough, came when MAF Kenya flew a team of medical specialists for a round trip to three far-flung towns - Bura, Kargi and Lodwar - in Northern Kenya for the long-running AIC CURE Medical Safaris. The team which included orthopaedic surgeons, a trauma technician, a social worker, a data clerk, and a pastor used the MAF flights to avoid 9-10 hours of road travel, reaching their destinations after just two hours in the air.
The medical team assessed children with different medical conditions such as club feet, syndactyly (joined fingers), chronic DDH (developmental dysplasia of the hip), cerebral palsy, contractures, and other medical conditions.
Image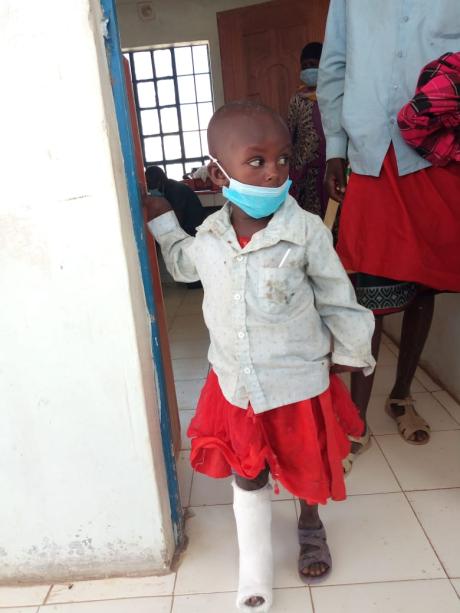 Neyeso walking out of CURE Kijabe Hospital with a cast on her foot. Photo Credit: Amon Tole
Neyeso's journey
At only one and a half years old, Neyeso had been playing outside her house, and out of curiosity, she walked into a heap of manure that was burning nearby. She was only playing and could not have known the danger.
Her mother heard screams and went hurriedly outside to find out what was happening, only to find her daughter stuck in the burning manure. She quickly pulled her out of the fire. Upon observation, the mother realised Neyeso had sustained burns on her left foot and hand. The damage from the fire was especially severe on her toenails. Neyeso wailed in pain and could not lift her foot or walk.
Neyeso was rushed to the nearest hospital for treatment but due to a lack of money to cover hospital expenses, no assessment was carried out and they had to go back home. For nearly three months after getting the burns, Neyeso did not receive any treatment and the wounds became more infected, leaving her in unbearable pain. The situation was also agonising for the parents due to the hard economic times many faced during the COVID-19 pandemic. They decided to seek help from family and friends as well as sell half of their livestock to raise funds for treatment. 
With the little funds raised, they visited Marsabit County Referral Hospital but on their way, they lost everything they had to robbers. Upon reaching the hospital, an assessment was done by a physician who confirmed 30% burns on Neyeso but could not proceed with offering her treatment due to the severity of the burns and a lack of funds to cover the hospital bills. They all went back home without getting the help they needed.
Before leaving the hospital, the doctor referred them to yet another option; the Meru County Referral Hospital which the physician cited was more equipped to help her. Neyeso's health kept on deteriorating to the point the mother thought she was going to lose her daughter. She went back home disappointed, but she held on to hope.
Family and friends raised more funds to cover transportation and treatment costs in Meru County and Neyeso and her mother were set to travel. Upon reaching the hospital, the doctors assessed her, and she was admitted, and treatment started immediately. Neyeso stayed at the hospital for four months.
At the end of the four months, Neyeso's condition had slightly improved but her leg was bent inwards restricting her movement and her hand had been severely damaged that she could not hold anything. The doctors advised Neyeso's mother to seek more help from specialist hospitals in the city to help correct the condition of her daughter's hand and leg. She left the hospital and travelled back home. 
Hope knocks on the door
"When I came back home with my daughter, I felt like all hope was lost. I thought about all the days we had spent in the hospital, the struggles we faced to raise money and still my daughter did not receive the medical care she needed," Neyeso's mother said. A devastated mother with her child in her arms, she had been left feeling hopeless but was still determined to get treatment for Neyeso after seven months of heartache.
"After a few days at home, a neighbour came with the news that the AIC CURE International Hospital was setting up a clinic at the Missions of Hope International School (MOHI) Napuu in Lodwar, not far from where we lived," she said.
"I quickly decided to take Neyeso to the clinic and immediately after the doctor assessed her condition, she was scheduled for her first surgery to treat her leg which was severely damaged. I could not thank God enough for this big miracle," her mother added. The miracle had come at the right time when the family needed it. Neyeso went for surgery at the CURE Kijabe Hospital, and it was a success.  
During the September CURE safari clinic, Neyeso was brought by her parents for a post-surgery observation, and the doctors were happy to see that she had fully recovered her mobility and could walk well. The doctors then went ahead and booked her for the second surgery to correct her hand injury in November at the AIC CURE Kijabe Hospital.  
Key facts on burn injuries according to World Health Organization 2018
An estimated 180,000 deaths every year are caused by burns – the vast majority occur in low- and middle-income countries.

Non-fatal burn injuries are a leading cause of morbidity.

Burns occur mainly in the home and workplace.

Burns are preventable.

Burns are among the leading causes of disability-adjusted life-years (DALYs).

One DALY represents the loss of the equivalent of one year of full health. DALYs for a disease or health condition are the sum of the years of life lost to due to premature mortality (YLLs) and the years lived with a disability (YLDs) due to prevalent cases of the disease or health condition in a population.
Image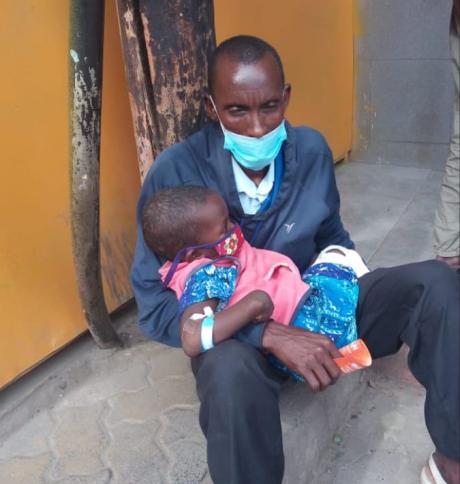 Neyeso is held by her father after they were discharged from the hospital. Photo Credit: Amon Tole
Written by: Jacqueline Mwende