Image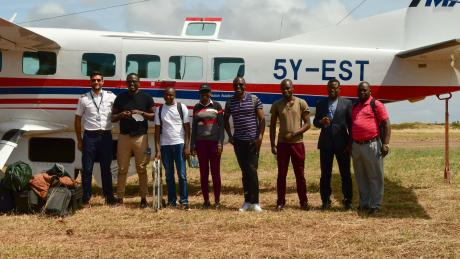 Photo credits : Jenny Davies
In September, MAF Kenya  flew  a team of Orthopaedic specialists from CURE to Bura.
The team comprising of two surgeons, an Orthopaedic technologist, social worker, clinical officer, photographer, and pastor, disembark from the plane at Bura airstrip along with the pilot. They squeeze themselves into child sizes rows of seats of the school bus for the short drive to Bura District Hospital where the waiting area is already brimming with patients. While the physicians and support staff prepare, Pastor Philip gathers people to share a short message. He explains that the experienced doctors are using skills and medicine that God has given them - but that healing comes from God.
Hopes and dreams
The corridor outside the consultation room is crowded with patients and their parents eagerly awaiting their turn.  Inside the consultation room the doctors assess the medical conditions and offer advice. Hopeful patients share what the possibility of surgery means to them.
A six-year-old with a fractured left arm hopes he will be able to use his left arm more after his surgery. He says the thing he's most looking forward to is being independent.
Eight-year-old Reward hopes to walk and run without feeling pain on her ankle caused by club foot. Her mother is excited about the surgery her daughter is about to undergo, a relief she will continue pursuing her education smoothly.
Ten-year-old Yasin is a candidate for surgery after his right arm failed to heal following a fracture that causes him pain when he tries to lift things. He is hopeful his arm will heal so that he is able to write.  Concepta, the mother of a two-year-old with cerebral palsy, learns that her daughter's condition is best treated with physiotherapy which will strengthen her muscles, improving her mobility and quality of life. She looks forward to the day Mary will begin to walk.
Image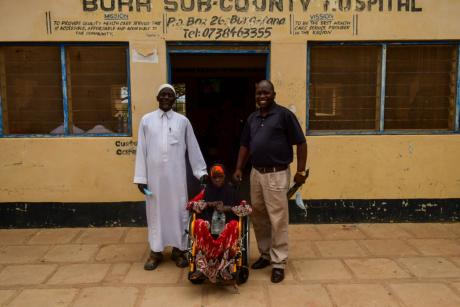 A brand new wheelchair for Aisha who suffers Rheumatic Fever. Photo credits : Jenny Davies
The CURE team brought a brand-new wheelchair for eleven-year-old Aisha who suffers rheumatic fever, a debilitating condition that causes pain and fatigue affecting the heart, joints, brain, and skin. The disease is caused by a response of the body's immune system after Streptococcus A infection.
"Aisha, my youngest daughter is sick and suffers from rheumatic fever. We came back here today because they told me the mobile clinic would be coming here to Bura and they promised to get my daughter a wheelchair,' Mohammed Said explains.
Aisha is lifted carefully into the wheelchair by her father and Convas Bundi CURE's Orthopaedic Technologist. 'She was measured for this chair in Kijabe Hospital and today we are fitting it according to her specifications and needs,' Convas explains.  Assistive devices such as this help ease the mobility problems for children like Aisha with immune conditions to help manage the situation and for them to access education easily. "We will be following up on Aisha's case closely before her next review and we are hopeful for great improvement," added Convas.
The teenager offers a shy, weary smile which speaks more than words. Said makes no attempt to hide his enthusiasm, he's clearly delighted with the wheelchair that's been gifted to his daughter. 'I am very happy today, God has blessed us! The wheelchair means she can continue learning and going to school. It will give her mobility. She is happy that her dream of having a wheelchair came true!' 'Said is one of the teachers at the Madrasa and is appreciative of the support of the wheelchair given to his daughter,' Pastor Philip explains. We have created a rapport, and shared our beliefs despite our Islamic and Christianity backgrounds. 
Image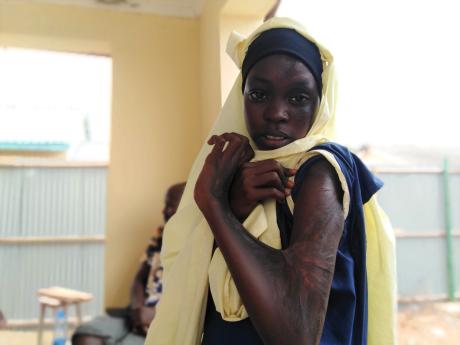 Arfon suffered a contracture that left her arm with limited movement. Photo credits : CURE Kenya
Social worker, Samuel Chege is bent over his laptop registering 27 new referrals and the 11 patients who are attending the clinic for follow up. He looks up from his computer with a smile to greet 13-year-old Arfon who recently had surgery at the CURE hospital in Kijabe. She's accompanied by her mother Fatuma.
'Fatuma heard about the outreach through Missions of Hope community mobilisation worker here at this hospital during the clinic we held back in June,' he explains. The mobile clinic was closing after seeing the last patient when Arfon and her mother Fatuma came.  Fatuma pleaded with the doctors to see Arfon who had a contracture on her left arm that severely constricted her movement for 13 years, and she could no longer straighten her arm.'
The injury happened when Arfon was just four months old when their house caught fire in her sleep. Screams filled the air as the community rushed in to rescue the child and put out the fire. The blankets she was wrapped in were alight. "The only thing on my mind when our house caught fire, was how I was going to rescue my baby from the flames!" Fatuma, told the CURE staff.
Arfon sustained serious burns on the left side of her body and was rushed to hospital where treatment began immediately. A long and tedious process left the little girl with a burn contracture on her left hand. "She was fond of sucking her little finger and so after getting the contracture she couldn't," Fatuma explained.
Arfon tells Chege how she was determined to have the operation and wasn't scared. With the injury now corrected; the teenager has every chance at a normal life. Chege reminds Arfon that she must continue exercising her arm as it heals for more flexibility.  "I am thankful for the surgery. God bless the doctors for helping my daughter. I'm very happy that Arfon's hand is fully transformed. She could not stretch her hand due to the contracture but now she will be able to lift things and hold things with her right hand which was her dream. What else can we say?"
Image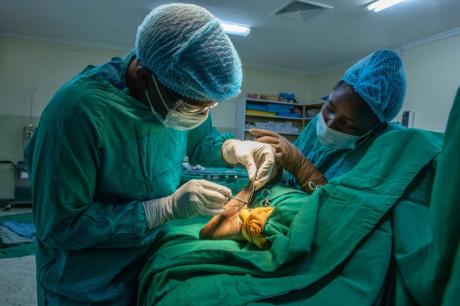 Arfon undergoes surgery at the clinic. Photo credits : CURE Kenya
Image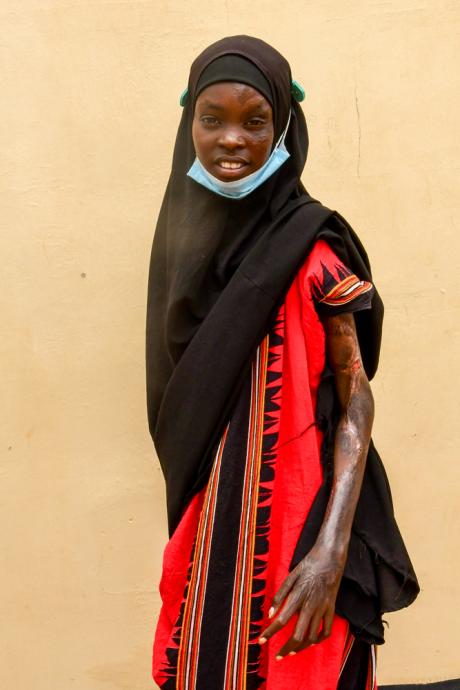 Arfon looking happy after a successful arm surgery. Photo credits: Jenny Davies
More Mobile Clinics with MAF Kenya
Image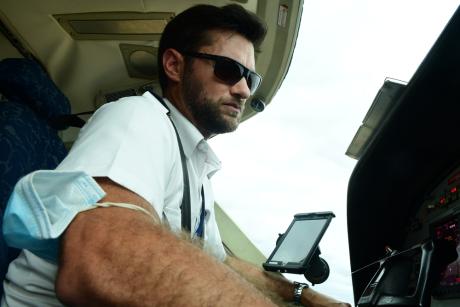 MAF Kenya Country Director and Pilot, Ryan Cuthel Photo credits: Jenny Davies
Pilot Ryan is happy to see first-hand the impact of the surgeries. The work has a special significance for the MAF Kenya Country Director and his wife Anna who headed up CURE's East Africa clubfoot outreach for some time. 'So much thought and preparation went into this project. I was keen to come and witness one of the mobile clinics' activities. It's exciting. There's clearly a need,' Ryan shares.
'I got to learn about CURE from Anna's work, so I reached out to the person who oversees CURE Programmes in Africa and suggested to do some flights with them and they were super excited at the prospect!
'CURE came in for several meetings with us where we looked at the map of Kenya together starting with the areas the team reached easily through their mobile clinics and places that were more challenging to reach. They were already running a clinic in Lamu but pointed out a challenge in reaching there due to no direct scheduled flights that would get them there within a short period. They'd fly to Mombasa and then get public transport (minibus) to drive them from there. The alternative was driving the whole day from Nairobi to Lamu, a long and exhaustive journey. For this reason, CURE asked if we could start by flying them to Lamu.
"I suggested to them that if we were to fly to Lamu, it would be ideal to work with other partner organizations on the ground to offer the neglected and lacking in service to the most isolated communities. Since MAF Kenya was already working with Missions of Hope International (MOHI), I linked the two organisations and together they approached the government hospitals in the area and their deliberations gave birth to the Bura mobile clinics.
Surgery and serial casting for Mahir
Image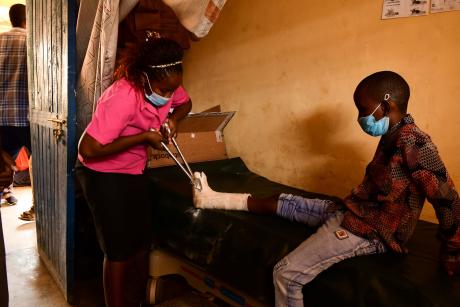 Mahir undergoing serial casting during the mobile clinic. Photo credits : Jenny Davies
In a side room, the hospital's Orthopaedic Surgeon Mirriam Matheu does battle with a plaster cast that needs to come off. The cast belongs to eight-year-old Mahir, who watches keenly as the medics do their work. Mahir recently underwent surgery at the Kijabe Hospital to correct a bone deformity. To continue the treatment, Mahir is undergoing serial casting a process which will help his foot to heal perfectly. In a better equipped hospital, the process would be faster because they wouldn't be doing this by hand with orthopaedic shears. Technologists Mirriam and Convas take turns sawing away until finally, amid a cloud of plaster dust, the cast gives way.
'The serial casting is needed now in order to maintain corrective state - avoiding any recurrence of the deformity,' Convas says, explaining that Mahir's cast will be removed in six weeks' time and replaced with an assistive device called an Ankle Foot Orthosis or AFO.
Convas applies a cast and immediately cuts it off before the plaster dries solid to create a mold. He will take this back to Kijabe and use it to make the AFO. The second cast he applies will keep the foot in the right position until the AFO is ready. The refitting of the cast as Convas manipulates his foot into the right position, is the only part of the process that is painful for Mahir. He is looking forward to going to school, walking normally like other boys his age, when his treatment is finally done.
Club foot care for Abdishukri
Image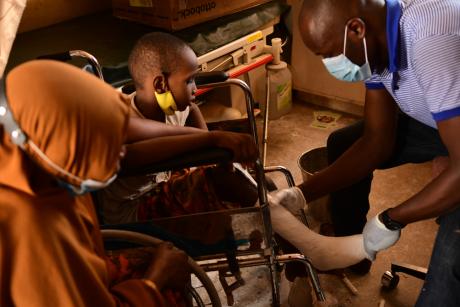 Abdishukri undergoes club foot care at the clinic. Photo credits : Jenny Davies
Convas's final patient  Abdishukri had surgery on his right leg very recently to correct neglected club foot. He has come in today to have the pins removed. If treated early, club foot can be corrected by casting alone. But when children get to Abdishukri's age the bone has developed and surgery is needed to release the tendons and reposition the foot. Abdishukri underwent this procedure recently at Kijabe Hospital and has come here today for a follow up appointment to have the pins removed before he too is fitted for an AFO. 
He was identified and assessed through a previous mobile clinic and booked for surgery. The surgery was carried out and he is here for follow up treatment. The pins were used to maintain the bones of the foot in the corrective position,' Convas explains. Abdishukri is very brave but his wet cheeks show that the treatments, are not without cost for the children.
Convas applies the plaster mold for the AFO before fitting the cast that will maintain the foot's position while it continues to heal. 'I enjoy the mobile clinics because they are a chance to get out and see the children in their communities. The Mobile clinics are a great learning experience. I encounter conditions I haven't seen before. I'm always happy to meet a child after they've had the surgery to correct their deformity or condition and they have a smile on their face! I'm happy because I know this is the first step towards them becoming independent and living a normal life. As a Christian, it also leads me to reflect on how God creates us awesomely in His own image and likeness.'